☆ Everlyne Imbalah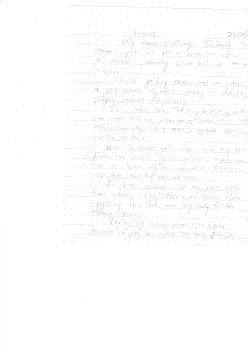 My name is Everlyne Imbalah. I'm thirteen years old. I'm in form one. I learn at Kaliluni Secondary School and live at Kibera.
I like plying football and am also a good actress. My best hobby is dancing, playing football and singing.
In school I like reading books, my notes and novels and also participating scout clubs and many other clubs. But scout is my best club. I like it so much.
Both in school and home I have my best friends. In school my best friend is Xparansa and at home my best friend is Marrion. I love them and they love me too.
At home I always help my parent with house chores. I enjoy these work. During night I regularly read notes and very early in the morning preps.
During my leisure time I can watch television or play to make the body flexible. Moreover I like clinging. In fact I usually obey my elders. When they tell me to do something I do it without complaint.
I hate those who disobey their elders but those who respect their elders. I can make friend with them. I like those who make fun. In addition I love those who care for the needy.
I dislike a person who beats their children. People who kill others and people who commit suicide. I don't like when I'm walking I am procid of myself. I like being clean and neat and I don't like to quarrel with people or abuse with each other.
Sometimes I also like my environment and manipulate it. If someone is sick I will help him or her. A part from the sick I like some teachers but some I don't because they are unfair to student and others are too harsh. Beyond that I like to blow ones trumpet and so I am proud of myself.